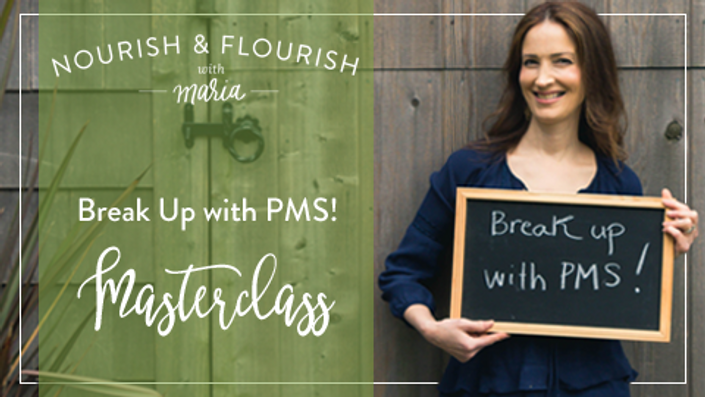 Break Up With PMS
A life changing 4 week journey.<br> Live Free from Period Drama and Menstrual Misery
Enroll in Course
Letting yourself suffer with PMS is worse than putting up with a bad news boyfriend.
You know it's time to end your PMS relationship when you:
Suddenly just don't recognize yourself.
Who is this irrational, crazy irritable person?!
Overreacting to the slightest problem, feel like you're sliding out of control.
Lose all sense of logic and self-restraint, start shovelling in bad snacks.
Healthy eating plan out the window, premenstrual junk food cravings rule.
Find yourself sobbing uncontrollably, drowning in self-hate and hopelessness.
Life just got turned so inside-out unbearable that even hiding under a blanket feels miserable.
Spend hours completing online depression tests, sit staring hopelessly at the results.
But then next week you're magically back to normal. All's fine! What's to worry about? Until the cycle starts again.
Are wreaking havoc in your relationships.
Your partner, family, friends, work colleagues, you sometimes even go off at your dog.
This is the biggie. It can't go on. You're not the only one who's suffering through this.
How could they possibly do anything right around you right now?
Don't allow PMS to create chaos in your life any longer. There's a way to stop this.

Imagine this…
No more agonizing cramps and canceling plans, or dread of making them!
No more panic about super soaker periods and public humiliation
No more managing symptoms with temporary solutions that worsen your long-term health
No more fear about your future fertility because the 'only option' is to take The Pill
Please note: the birth control pill compares to a bandaid for PMS, not a cure. Hormonal contraceptives such as the pill are made from synthetic hormones and can cause additional problems and/or hormone production to flatline.
So, here's what we can do...
Just like that loser boyfriend you once put up with for too long, you cannot wrangle PMS into shape. You have to dump it for good. And the sooner, the better.
When the monthly descent into premenstrual mode begins, it feels impossible to maintain a positive mental attitude. Just think about how much better your life would be if you were free from all that negativity and anxiety.
A quarter of every month multiplied by 12. That's at least 84 days a year.
A quarter of every year. That's 3 months of lost time.
A quarter of your reproductive life.
You're likely to have between 400-500 periods in your lifetime.
We are not going to let this amount of your life be taken over by your menstrual cycle. It's too long to live in misery. And I know, because I've been there.
I wanted to shut myself in a padded room every time PMS hit me. But I couldn't. As wonderful as my husband was during those times, I realized the world couldn't stop because of my hormone-controlled mood swings. I had to find a way to get past it.
I took control. And so can you!
You know that feeling when your period arrives, when the veil lifts and you come back to yourself. You don't want to die any more, or smash up the car of the Sunday driver in front of you... It's a huge relief, right?
I know where you are and I want to help you avoid that black veil from even coming down to start with.
The first step is understanding what you're dealing with.
If PMS is a constant companion, you've got a hormone imbalance.
And while it might be common - in fact millions of women suffer from these exact same symptoms - that doesn't mean it's normal.
It doesn't mean that you have to accept it and you most definitely do not have to continue living with it. PMS, if not dealt with, can get even more extreme.
Are you ready to get off the hormone rollercoaster and break up with your PMS?
Using a combination approach, which integrates the best of conventional scientific thinking & holistic therapies, the Break Up With PMS course is designed to target the root cause of your conditions - not just the symptoms.
I will give you the understanding and the tools you need to get your whole body working smoothly so that you can feel AMAZING, and break up with PMS for good - in just a matter of weeks.
The course is available at Basic or VIP level.
Both levels include:
Welcome and 'pre-lesson'
A private Facebook support group
Introduction module and 5 additional modules
Super valuable handouts and protocol sheets
PMS Supplement Guide
A selection of fabulous bonuses
VIP Level also includes all of the above, plus:
A 1:1 session with me where I will create an individual protocol directing you to specific personalized action to optimize your hormone health. You will also have the option to do The DUTCH hormone test (lab fee not included in the course fee) which is the premier test for determining hormone levels.
YOUR FABULOUS BONUSES

An e-copy of The Protein Powder Primer, an information-packed guide to protein powders and how to choose the best one
My Healthy Hormones e-cookbook of delicious recipes
An exclusive interview about the pros and cons of various birth control methods, with Dr. Shawn Tassone, integrative medicine doctor
The Toxic Home Makeover guide to detoxing your environment to optimize hormone health
Well-informed is the first step to well-being and the more you know about how to create hormone resilience, the better you'll be at breaking up with PMS.
Your Instructor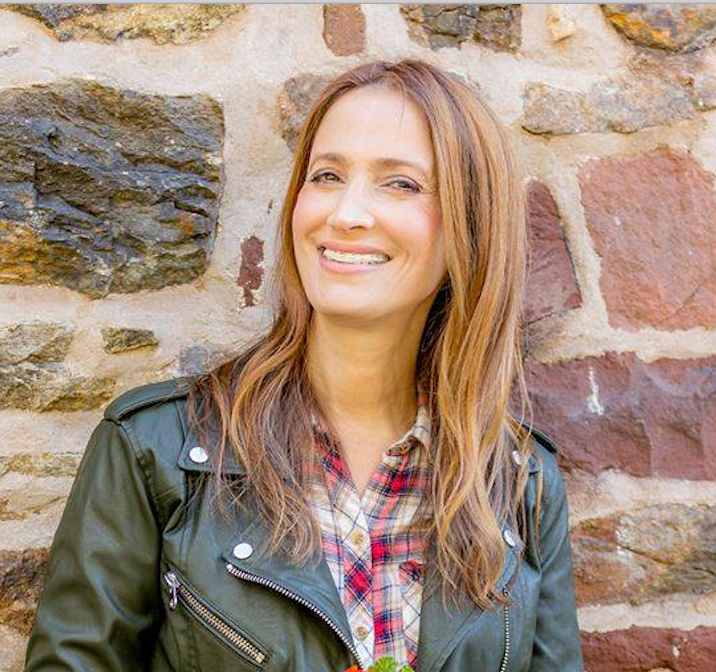 Maria Claps is a certified health coach with advanced training in functional medicine hormone balance for women. She works with women 1:1 and in group programs all over the world in order to help them balance their hormones.
Her training includes:
Graduate of the Institute for Integrative Nutrition

Functional Diagnostic Nutrition Practitioner Certification Program

The Hormone Cure Practitioner Program with Dr. Sara Gottfried

3rd Age Women's Health Certification (UK based )

Nutritious Life Certification with Keri Glassman, RD

Menopause Method Course for Physicians with Dr. Daved Rosensweet

Mentorship with hormone scholar Dr. Lindsey Berkson
Frequently Asked Questions
Will my PMS be completely gone after this course?
I'm not saying that you will be perfectly PMS free in 4 weeks but I am near certain you will see some major improvement. For some, feeling better can take weeks, for others it can take months and for others, up to a year or more.
But with this course your journey will begin, and even if it takes longer than you'd like, you will always have the information and guidance that you need to improve your health at your body's natural pace. Also realize that some of you may want to dig deeper and work one on one with a functional medicine practitioner after this course wraps up.
Why are there two prices for this course?
The Break Up With PMS course gives you everything you need to know about how to achieve balance with your hormones and move towards drama-free periods. The VIP level gives you everything in the basic level plus a customized protocol from me (via a 1:1 session that we conduct via phone or Zoom videoconference) and 30 days of one-to-one email support. You will also be able to do the DUTCH test at a deeply discounted rate if you'd like, although it is not required
How long do I have access to the course?
How does lifetime access sound? After enrolling, you have unlimited access to this course for as long as you like - across any and all devices you own.
How is this course set up?
As soon as you enroll you'll be directed to the welcome and intro modules, and invited to join the private Facebook support group.
The course has a clear layout with: Introduction module, 5 additional modules,. You can get started with the welcome and intro modules right away. Two days later, you'll receive the first module and about 6 days after that you will receive Module #2.
Modules and handouts continue to be released weekly to maximize its effectiveness, giving you time to absorb information and make gradual changes that will immediately begin to improve your hormone health.
When does the course start and finish?
The course is a completely self-paced online course. As soon as you purchase, you will have immediate access to the Welcome and Intro Modules. Two days after that, you will have access to Module 1. The remaining modules will be released weekly. You will always be able to revisit the modules and refresh your knowledge to keep you on track, even after you've completed the course.
I feel like I have more complex problems and require more testing. Should I do this course or work with you one to one?
The Break Up With PMS course is the perfect place to begin.
It is designed specifically to get the foundational work into place. The DUTCH test (which you have the option to do while you are working through this course)is always the initial investigation with my clients that suffer with PMS, so doing this course is a great place to start our work together. When you've completed the modules, if you feel you need more intensive work and personal attention, send me an email and we can talk about that.
I don't live in the USA. Can I still participate?
You bet! This course is designed for women all over the world.
All you need is a computer, an internet connection and a credit card or Paypal to enroll, then we can get you started on breaking up with your PMS right away!
What do I get for this course?
Informative, educational and actionable modules, with short comprehensive webinars in each weekly section - all of which address different areas of your hormone health and help you to understand and prevent PMS.
No long webinars with far too much information in them for my students! Implementing change is more effective when information is presented in 'degrees'. The course is offered in sequence over 4 weeks, to maximize effective change in small steps.

Super valuable handouts & protocol sheets that summarize the key areas for balancing and improving your hormone health.
Included in these handouts are my time-tested protocols for treating estrogen dominance, leaky gut syndrome (if you don't know about this you need to!) and an adrenal health repair protocol, to name a few.

And there's more! I share very specific tips on how to achieve full-time long-term health, including advice regarding my favorite supplements and trusted brands.

Access to a Facebook group created exclusively for enrolled members.
The sisterhood of support is a priceless component of this course!

YOUR FABULOUS BONUSES:

My super-juicy, information-packed protein powder primer e-book. I spill the beans on the most popular protein powders on the market. The protein shake is here to stay, and this guide will help you choose the best one out there.

An informative interview with Dr. Shawn Tassone, an integrative medicine doctor, on the pros and cons of various methods of birth control. Learn valuable information that helps you to choose what's right for you!

My Healthy Hormones e-cookbook of delicious recipes.
Who said hormone balance needs to be tasteless? Desserts included!

The Toxic Home Makeover guide to keeping your home free from chemical enemies. Practical, easy to implement steps to detox your environment and eliminate toxic agents that play havoc with your health. Because neutral natural environments lead to happy healthy hormones.
I'm over 40 and I still have PMS. In fact, I think it might be getting worse. Can I benefit from this course?
Oh dear lady, you absolutely can. PMS tends to get worse as we age if nothing has been done to address hormone imbalances. You will find that this course will help you navigate hormone changes that really ramp up over age 40.
I'm so busy, how much time does this course take?
Each week you'll work on a new module which contains between 2-5 mini video presentations, ranging in length from 5-15 minutes each, and about 30 minutes of additional personal application work. There is no time limit and thus no need to stress. No exams. No cut off point.
You will have all of this information available to you forever. So if you need 2 weeks instead of 1, to get through any particular section, so be it. I prefer you to take it slowly and actually make changes as you work through the modules, rather than zip through the course and never open it again.
I want it to change your life, not sit unused and unseen in your hard drive.
Do you address different eating philosophies in this course?
I introduce and discuss foods that benefit you from a hormonal perspective. I will also cover foods that you should avoid and explain why, so you can make informed decisions.
The course is not a vegetarian or vegan course. We will discuss animal protein and how it can be helpful for many women with hormonal imbalances. Some women can thrive on a vegetarian or vegan diet while others require animal protein to feel their best. It's different for everyone. The important thing is to not be married to any dietary ideology and to always remain open to learning and observing your own body so you can make the best food choices for yourself based on how you feel.
What is the DUTCH test?
The DUTCH test stands for 'Dried Urine Total Complete Hormones' and is the premier test for determining hormone levels in women. One of the key points is that it identifies what your estrogen metabolites are doing - whether you're making protective estrogen or harmful estrogen. It's a hugely successful tool that I use all the time in my private coaching practice to help determine the hormone imbalance at the root of your PMS.
The DUTCH test sounds awesome. I want to do that test. How does that work?
Easy - just sign up for the VIP level of the course. Once in the course hub area, you'll have access to my discount code and you will call the lab to order your test. The test is normally $399, but with my code, you will only pay $250 for it. International clients may be charged $275 for the test, plus a shipping fee. You will pay the lab directly and they will send you the test. You will find instructions on how to do the test (it's extremely easy!) once you are inside the course.
Can I take the DUTCH test if I am on birth control?
Yes, you can, but your sex hormone levels will be somewhat inaccurate. It will still be helpful for your adrenal hormones.
I don't live in the USA but want to do the DUTCH test. How can we make this happen?
I've successfully sent the DUTCH test abroad several times without incident. Shipping will cost you a bit extra, but it is entirely do-able! You will have to order the test directly from the lab. Be sure to sign up for the VIP version of the course.
I recently had saliva testing done for my hormones. Can you use those results to write a customized protocol for me?
Unfortunately, no. Saliva tests are wholly indequate for sex hormone levels. Saliva tests are adequate for adrenal hormones, but not for sex hormones. Please consider purchasing a DUTCH test if you really want to know your hormone levels.
Is it expensive to mail the DUTCH test back to the lab in Oregon?
No, not at all. It goes back in a regular size envelope and only requires several postage stamps.
Do I have to buy the DUTCH test if doing the VIP level of the course?
No, you don't have to. I can still write a customized protocol for you based on your symptoms, goals and an extensive intake form that you will complete
With so much free information available online, why should I pay to join this program?
Consider this analogy: Everything you need to buy a home can be purchased at Home Depot... but most of us have no problem paying a home builder a large sum to build us our home. Investing in this membership program will help you leapfrog over the time, confusion and stress of figuring out things on your own, without paying a sizeable sum for it!. Also, don't forget the super helpful Facebook group that is a part of this membership - it's a sisterhood of support that you won't get even after spending hours and hours online.
What if I am unhappy with the course?
We would never want you to be unhappy! If you're not fully satisfied with the course, email within 14 days of starting the program and we will fully refund you.
Course Curriculum
Welcome to the Course!
Available in days
days after you enroll
Intro Module
Available in days
days after you enroll
Module 1: How Hormones Work & Why it Matters
Available in days
days after you enroll

Have you already tried to get a handle on PMS? Do you already eat well and exercise?
Maybe you're a green drink devotee?
You try to do the best you can. And yet you still suffer… a lot.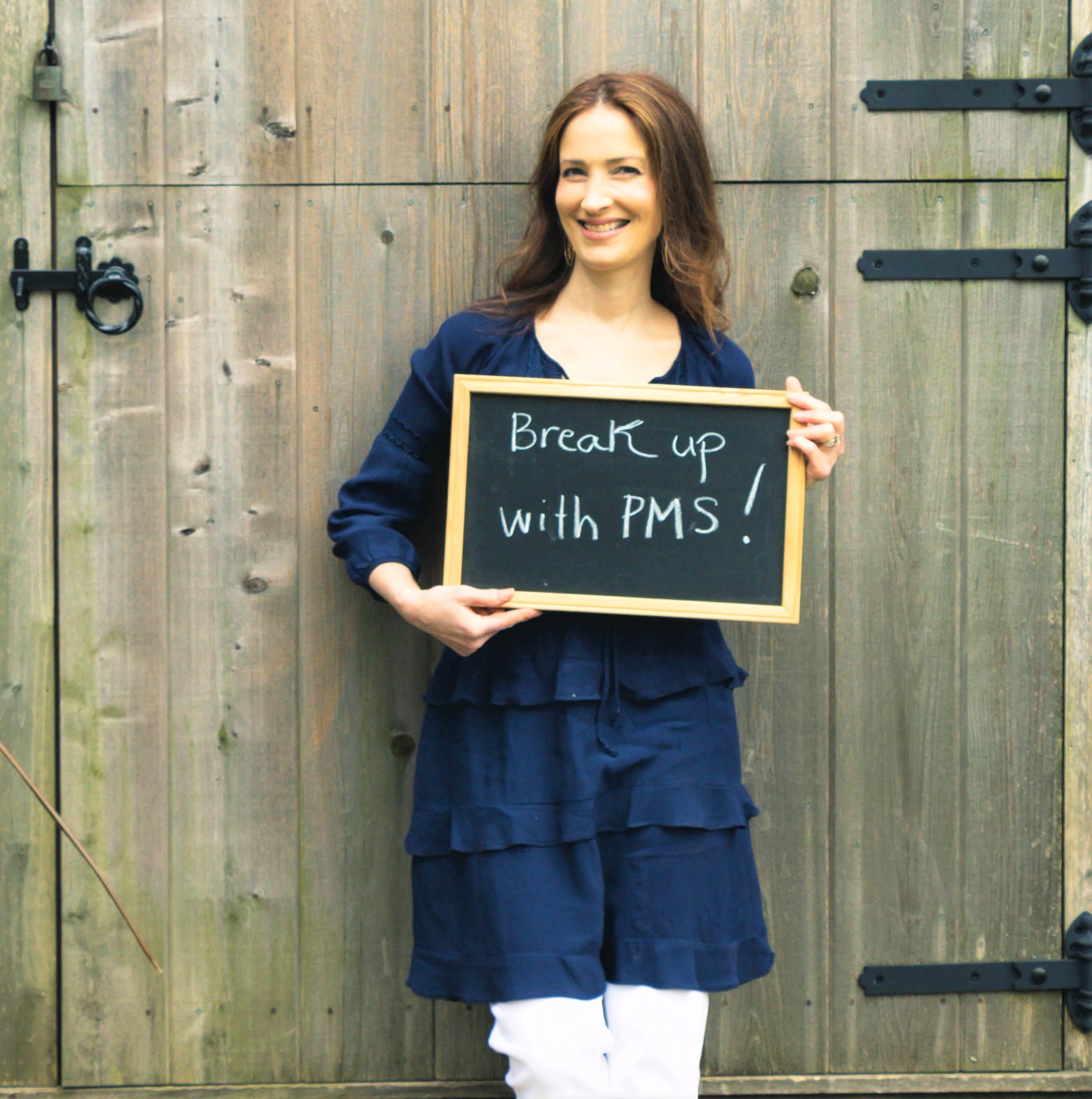 Would you believe that I too thought I was doing everything right? Turns out, I wasn't.
But heck, I didn't smoke or drink (well, maybe just once in a while) or really party hearty. I took pretty good care of myself, and yet, I still fell victim at least 10 cycles out of the year to extreme PMS. Now that I think back, I'm almost sure it was PMDD (Premenstrual Dysphoric Disorder) which I would never wish on my worst enemy. I don't really have enemies, but you get my drift...
Wherever you are in your health at the moment, there is always room for improvement.
I believe one of the reasons we've become so collectively unhealthy is because we've stopped listening to our bodies. Basic literacy of the female hormonal system is our birthright.
You don't have to live with PMS. You can get better. You can eradicate that week of feeling that you live in a nightmare from every month of your life. You can feel in control again and stop living in fear of being hit by the overwhelming bout of stress, tension and sadness as your period approaches.
This course is the culmination of years of study and application and let me tell you… it works.
I've found the answers. And I'm here to share them with you.

xo,